SMS
Proven standard for reaching mobile users
2 WAYS SMS
Interact with customer through Virtual Code
2FA SMS
Generate OTP, Send OTP and Verify Mobile
OBD
Reach Millions through Automated Calls
MISSED CALLS
Generate lead for Higher ROI
Promotional, Transactional or OTP Which SMS Route Should I Choose?
Choose the SMS route best suited for your business needs, whether it is for bulk SMS marketing or for customer engagement. Here is a quick guide to help you get started.
Promotional
If you need to send marketing related SMS like Offers, deals to existing or prospective customers, this is an ideal route for you. SMS are sent between 9am - 9pm, to Non DND Numbers only, as per TRAI guidelines.
Transactional
If you need to send Alerts or critical information to your registered user base, this is an ideal route for you. SMS are sent 24x7 with a 6 Character Alphabetic Sender Id. SMS can be sent to DND and Non DND Numbers.
OTP
If you need to send One time password to your user, this is an ideal route for you, as it ensures SMS are delivered within seconds to the user and in case of delay or failure, system auto retries from alternate operators.
Our Core Features
Welcome to the most comprehensive, powerful and easy to use Communication platform...
Bulk SMS Alertified
Send personalized SMS to a group, compose SMS in regional languages, schedule & stagger your sends & more.
OBD
Reach your customers in your own Voice with our Powerful Outbound Dialer, for personalised interaction.
2 Factor Authentication
Your Complete OTP infrastructure! Ensuring OTP WILL NOT FAIL, COME WHAT MAY!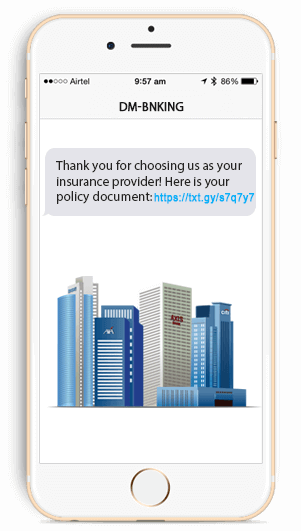 2 Way SMS
Simplify your messaging experience with long codes that enable two-way communication at ease.
Send Files as Attachments
For the first time ever, attach files with SMS! Insert PDFs, images, Word docs, spreadsheets & more as shortlinks.
Access Full-Featured APIs
Integrate your application and start sending SMS in minutes with robust & scalable SMS APIs.
Pricing
Sign up and you'll get 10 free SMS messages to play with, use it to test our services.
Remember that we will match or beat any competitor price, just ask!
Quantity Range
Promotional Route
Transactional Route
OTP Route